The Coral | The Coral
A brilliant and thoroughly original debut.
CD, Deltasonic
Publicatiedatum: 27 november 2002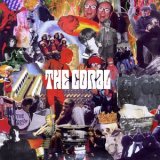 The late 1960s are wistfully remembered as perhaps the most creative and important era in music history. It is, therefore, unsurprising that many bands have since appeared as champions on behalf of sixties music, aspiring for their music to be referred to as "West Coast," "Motown," or even given the compliment of compliments: to be called "Beatle-esque." Yet it is often the case that these bands, with their singular fixation, allow themselves to be inspired yet hampered in equal measure. After all, even a brilliant pastiche is still a pastiche.
The Coral are a band who suffer from a similar obsession with the 1960s, yet there is something so thoroughly original about them that to refer to anything on this record as pastiche is to accuse Picasso, Rodin, Einstein, and Hemmingway of plagiarising, respectively, paint, stone, numbers, and letters. It is as if the Coral have taken the sixties, wrapped it in a blanket, smashed it into tiny pieces with a sledgehammer, and subsequently reassembled it into something new; mysterious, colorful, and breathtaking, just like the coral in the Caribean sea. And when I say that they've taken a hammer to the sixties, I don't just mean the Sixties of the Beatles, Beach Boys, and Doors. I also mean the sixties of the Turtles, Otis Redding, Sergio Leone & Ennio Morricone, Gilbert Becaud, Federico Fellini, Peter Cooke, George Best, Timothy Leary, or Sonny Liston and Alistair Crowley even. It is as if, with their music, they are trying to describe the sleeve of Sergeant Pepper's Lonely Hearts Club Band to a blind man. But not after some serious reconstruction, according to their own design, of course.
What makes the Coral even more remarkable is that all the band members are in their late teens/early twenties, and albums by 19-year-olds are just not supposed to be this outrageously assured. All their songs have been formed with a clarity of vision that is rare even amongst men twice their age. Take 'Dreaming Of You,' for instance: a 'Concrete And Clay' style, evergreen with a tune so instantaneously accessible that you will certainly be wondering why you failed to think of it yourself. Everything about the song is perfect, in particular singer James Skelly's gravelly, Eric Burdon-style vocals. 'Dreaming Of You,' incidentally, is one of the few songs here not affected by an enchanting nautical theme present throughout the album. References to the seashells on the seashore and setting sail for the Spanish mainland stress the impression of a band of musical adventurers, with pistols tucked in their vests and daggers clenched between their teeth: no sound or influence too strange for them to plunder. Take, for instance, the album's closing track 'Calendars And Clocks,' which sounds like the soundtrack to a cult Spaghetti western. A western that never was, you understand, but a western that SHOULD have existed. The moods change, but the atmosphere remains throughout, on this brilliant and thoroughly original debut.
http://www.kindamuzik.net/recensie/the-coral/the-coral/2094/
Meer The Coral op KindaMuzik: http://www.kindamuzik.net/artiest/the-coral